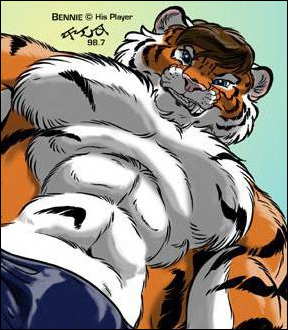 Bennie's
Page
---
03/28/2004 - New Art!
---
Bennie is...
Tiger. Big. Titanic. Stripey. Bad. Strong. Beefy. Muscular. Bulging. Stud. Packed. Dominating. Tiger.
Bennie is an anthropomorphic on Furry Muck. He is a big tiger. At his smallest size, he's over 9 feet tall. It's hard to find clothing at even his "small" size. He squeezes into it to try and relax the other tiny furs, but somehow it doesn't help as well as you'd think.
Bennie can get bigger. Much, much bigger. Both in overall size, and in form. He works out, regularly weigh lifting. When asked how big he wants to be, the simple answer is "bigger."
Bennie's Origin (What the hell is IRC?)
Bennie got his start in IRC. originally in some antics that were played out in EffNet #Disney. The character was assumed for the purpose of role play with close friends and was non-morphic.
Too match his character, Bennie started a channel called #Furry. Bennie had a number of these channels of which he believed he was the only person in. Most of them were for humor and some private chat away from the crowds of EffNet.
What a surprise then when after a few months of automatically logging into this channel, other folks started to show up. This is where Bennie first heard of furry muck. Amongst the early folks were people like Foxeris, Tehrash, Al Mackey, and Blackmane. Bennie created the first bot that ran in the channel. It was a short lived opBot. Eventually Real-life pressures drug Bennie away from the channel.
Some folks have trouble when occasionally Bennie voices that he founded the channel #Furry, that later became YiffNet. Bennie offers a small bit of proof.
Bennie's Stories...
Bennie's Artsy section...
---
© 1996-2005 Bennie (bennie@macrophile.com)
This page was last modified Thu May 19 20:31:09 2005